2021
Hey, Ouwe Meneer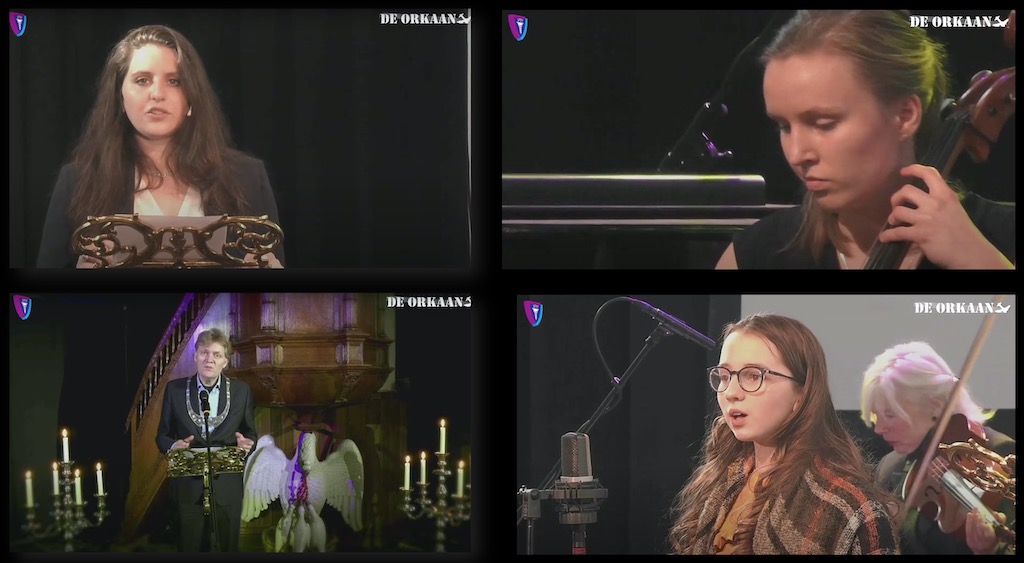 On January 31 2021, I took part in a Holocaust Memorial service in the Bullekerk in Zaandam. Organizer Merel Kan asked me to bring my youth orchestra Sinfonietta to play 'Hey, Ouwe Meneer,' originally sung by Liesbeth List. As the music( by Rik van der Linden, text by Cees Nooteboom) was only to be found in the airwaves, I asked my colleague Joke van der Bunt for help. She created parts for the voice and piano and I played along on the viola, as Covid restrictions made it impossible to bring the orchestra. Next time! We enjoyed the musical challenge, and were delighted with the 12-year-old singer Femke van Zoelen, coached by Ammes Brandenburg (Zaanse Theaterschool.)
---
2020
Duo Dusky in action
2019
Evert Sillem en Julia Barnes spellen Shenanigans (Dollen)
2018
Festival – Joyce is in de Lucht
Joyce is in de Lucht! 14 oktober a.s. van 10-22 is er in de Oosterkerk te Amsterdam een hele dag kunst en muziek rond de dichter. De Pomes Penyeach Project is hier onderdeel van, met kunst, mijn drie liedcycli met vocalist Han Buhrs, sopraan Caroline Stam en bariton Matthijs Mesdag en performances door Julia Henneman (voordracht en The Edible Joyce) en Virag Dezso, choreograaf en beweger (Joyce Moves in Lust (Love). De Rietveld Ensemble en Scordatura Ensemble brengen muziek van Max Knigge, Harry Partch en John Cage op de Chamber Music en Ulysses. Kortom, reden om een dag in de Oosterkerk inspiratie op te doen!
Joyce is in the air again! The Pomes Penyeach art and music will be part of a festival organized by Nanny Roed Lauridsen in the Oosterkerk in Amsterdam. My three song cycles will be performaned with vocalist Han Buhrs, soprano Caroline Stam and baritone Matthijs Mesday, speaker Julia Henneman with interactive performance The Edible Joyce, and new this year, Virag Dezso adds movement to Joyce in Lust (Love) to create a new dimension of the improvisatory piece. We are joined by the Rietveld Ensemble with a new work by Max Knigge, the inimitable translators Erik Bindervoet and Robbert-Jan Henkes, and Scordatura Ensemble with works by Harry Partch and John Cage.
Festival – Joyce is in de Lucht
---
Joyce on the Road, the Pomes Penyeach Project
The Art of James Joyce: 16 June 2018, Witte Zaal, Desguinlei 25, Antwerp. Joyce in Lust (Love) will be on the musical programme from 1 pm on, and Julia Henneman will help audience members to find their favorite word from the Pomes Penyeach in the installation/performance WordWeighter.
The music and artworks surrounding the Pomes in our project will be carried forth to new settings in 2018. We look forward to adorning the book presentation of translators Henkes and Bindervoet's 'Verse Piperstuk' on Bloomsday (June 2018, location to be announced). And we are planning to take part in the Joyce Festival now being planned for mid-October 2018 in the Oosterkerk. And in the meantime we have asked Virag Dezso of MAPA/musicality of movement to add her interpretation to Joyce in Lust (Love) to create Joyce Moves in Lust.
The menu below is available for performance, so if you are interested, get in touch!
The Flowering Branch
songs for soprano Caroline Stam and string quartet (Lis Perry and Emi Ohi Resnick, violins; Julia Barnes, viola; Mariëtte Gort, cello), interlaced with the Dutch translations performed by Julia Henneman.

Tutto e Sciolto (2017!)
Tilleagh
Rain on Rahoon
Simples
Their Young Hearts
A word about the words
Erik Bindervoet and Robbert-Jan Henkes talk about translating the Pomes into Dutch.
Joyce in Lust (Love)
Suite for vocalist Han Buhrs, percussionist Yung-Tuan Ku and violist Julia Barnes. Quasi-composed by Julia Barnes, magically improvised by Han Buhrs and Yung-Tuan Ku, this is a performance that changes every time. 3 musicians from three different walks of musical life combine their strengths for this adventurous rendering of Tutto e Sciolto, Flood, In the Mirror at Midnight and A Prayer.
Weighing his Words
Julia Henneman creates a performance with the unique words written by Joyce and re-invented by Bindervoet and Henkes.
Old Heart's Wisdom
Songs for baritone Matthijs Mesdag, percussion and string quartet, interlaced with a performance by Julia Henneman speaking the Dutch translations. Che-Sheng Wu, percussionist, joins the quartet in this cycle.
2016
By the light of his heart: a poet's journey
Ierse muziek, voordracht van prachtige vertalingen van de Pomes Penyeach, en nieuw gecomponeerde liederen–samen het verhaal van James Joyce's reis door zijn leven honderd jaar geleden; jonge vaderschap, de liefde, oorlog, bedrog, en uiteindelijk 'old heart's wisdom'.
Julia Henneman, voordracht
Robbert-Jan Henkes en Erik Bindervoet, vertalingen
Caroline Stam, soprano
Matthijs Mesdag, baritone
Joep van Beijnum, viool
Carolien Heinen, viool
Julia Barnes, altviool
Mariëtte Gort, cello
Che-sheng Wu, slagwerk
                                                Simples
                       O bella bionda, sei come l' onda!

…for her

Who gathers simples of the moon.

                                                            from Pomes Penyeach, James Joyce

James Joyce schreef Simples in Trieste in 1915. Honderd jaar later is de vonk van inspiratie overgesprongen en ik maakte een toonzetting voor sopraan, altviool en cello. Op zaterdag 5 september 2015 gaven sopraan Caroline Stam, celliste Mariette Gort samen met mij de eerste uitvoering op Kunsteiland 2015.
Op 19 december 2015 werd Simples gespeeld in de Venetiaanse Kamer te Bloemendaal samen met twee nieuwe composities: Tilly (Baker's dozen) en She weeps over Rahoon.
Het project groeit uit in 2016 tot een dubbele liedcyclus voor sopraan, bariton, strijkkwartet en (!) slagwerk. Ik componeer liederen op 9 van de 13 Pomes Penyeach in 2015-2016. Op 6 maart 2016 speelden wij samen met bariton Matthijs Mesdag de premiére van Around Us (On the beach at Fontana, Trieste, 1914) en Nightpiece (Trieste, 1915). Joep van Beinum en Carolien Heinen, violisten, en Che-Sheng Wu, slagwerk, spelen samen met Mariëtte Gort op de cello en ik op de altviool. Voor Nightpiece maakte Hannah Zwennes een mooi korte film op de vertaling door Robbert-Jan Henkes en Erik Bindervoet.
In 2017 gaan wij verder met het koppelen van de gedichten aan Facetten kunstenaars. Performances door Han Buhrs en de aanstormend slagwerker/theatermaker Yung-Tuan Ku, een mobiele tentoontstellingsobject door de jonge ontwerper Milou Parthesius met visuele en auditieve kunst van nog meer Facetten kunstenaars. En een cd van de composities. Werk aan de winkel dus!
Irish folk music, translations of 9 of the 13 Pomes Penyeach, and a newly composed song settings in a theatrical frame: altogether the story of James Joyce's journey through young fatherhood, love, war and the complexities of betrayal, ending in 'old heart's wisdom'. There WAS dancing at the afterparty to celebrate my almost 60th birthday!

Soprano Caroline Stam and baritone Matthijs Mesdag are joined by violinists Joep van Beinum and Carolien Heinen, me on the viola, Mariëtte Gort on the cello and Che-Sheng Wu, percussion and movement. Julia Henneman, spoken word and staging.

James Joyce wrote Simples in Trieste in 1915. In april 2015 I picked up the thread of inspiration and made a song setting for soprano, viola and cello. And the inspiration led further…

Tilly (Baker's dozen), She weeps over Rahoon, Simples and Their Young Hearts (Needleboats at San Sabba) make up the song cycle "The Flowering Branch" for soprano and strings. The premiere of the first three was on December 19, 2015 in the Venetiaanse Kamer in Bloemendaal. Still to come: The bold Irish bard, written on the melody of an Irish folksong.

The baritone cycle "Old Heart's Wisdom" takes up the trail of Joyce's life with Rosefrail, Around Us (On the beach at Fontana), Nightpiece, and Alone/Bahnhofstrasse. Around Us and Nightpiece were premiéred in Zaandam on March 6, 2016, and the rest will be aired in August–date coming soon. Violinists Joep van Beinum and Carolien Heinen make up the rest of the quartet, and percussionist and body performer Che-Sheng Wu plays in Around Us, Alone and Bahnhofstrasse.

The project continues in 2017 with commissions for artworks based on the translations of the poetry, to be exhibited and included in a book featuring the translated poems, the artwork, and a cd with the recorded compositions. Another kind of journey…
2015
Midnight Radio Show
---
Rumanian Melody, Max Bruch op. 83 no. 5